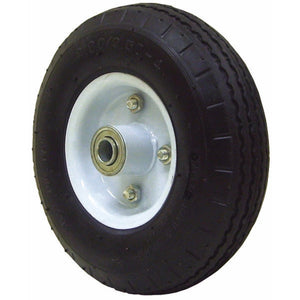 Dynaline 80105 Pneumatic Wheel
Rugged steel construction. Proof tested & certified. Use on straight or curved tracks. Adjustable to various beams. Axel bore is 5/8". Wheels are tubeless.
Part #
Tire
Size
Hub
Width
Wheel
Diameter
Tire
Width
Rim
Diameter
Hub
Type
Tread
Pattern
Load
Rating
80105
4.10/3.50-4
2.28"
10"
3.25"
4.9"
Offset
Sawtooth
280 lb
* All Pictures Shown Are For Illustration Purpose Only. Actual Product May Vary Due To Product Enhancement.
---
We Also Recommend